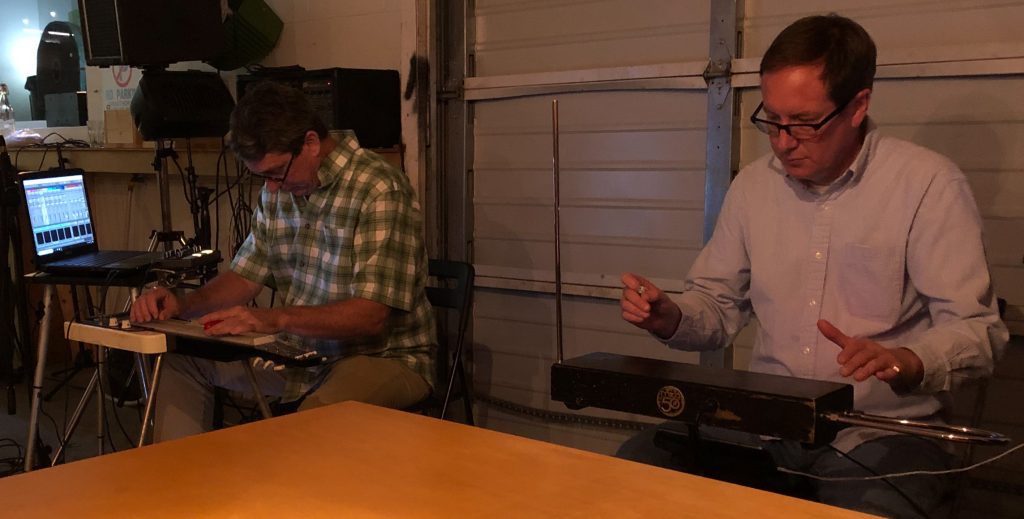 (a listening deeply gift from the urban inside)
A speaker faced down the bench
where we sat, directly
adjacent to the Duet.
Their aging laptops looping maybe scooping
the sound from their devices,
strung and hung in air plus wired,
synth sound supple and rounded
towards their combined long-tone sculpting.
As the bench began to resonate,
this pool of glacial tones clustering
and extended found the grains
of smooth planked architecture,
drawing the room in sound.
Such sand-dune-shaped sonority
left a freedom in long form structures.

The minor clink following crunch or crinkle,
shuffle and creak leak from wooden blocked chairs
like hexahedron slid mid string.
Instead then
a bowed extent
alongside a weaker vibration wood,
shifting underneath the wound six.
Swimming hands proximate
and glanced through
inflating resonances,
a subtle but driving mix
in the center
of feed loop backs,
underneath the bridge.

Careful by-finger tilted wrist
slight and steady,
each formant-mans emitted
layered in oscillation,
breeding combinations where the space itself
breathed against its moorings.
Then the building hummed
some hidden motor, vent, or rotor sung.

Crick the other colored side
in delicately high frequencies
that appeared in the sonic atmosphere
like fireflies drifting into dusk.
Complexity relationships
distilled into parallel,
submerging the fragile bubble
into silence.
(September, Nashville, 2019 Duet for Theremin and Lap Steel @ Proper Sake)